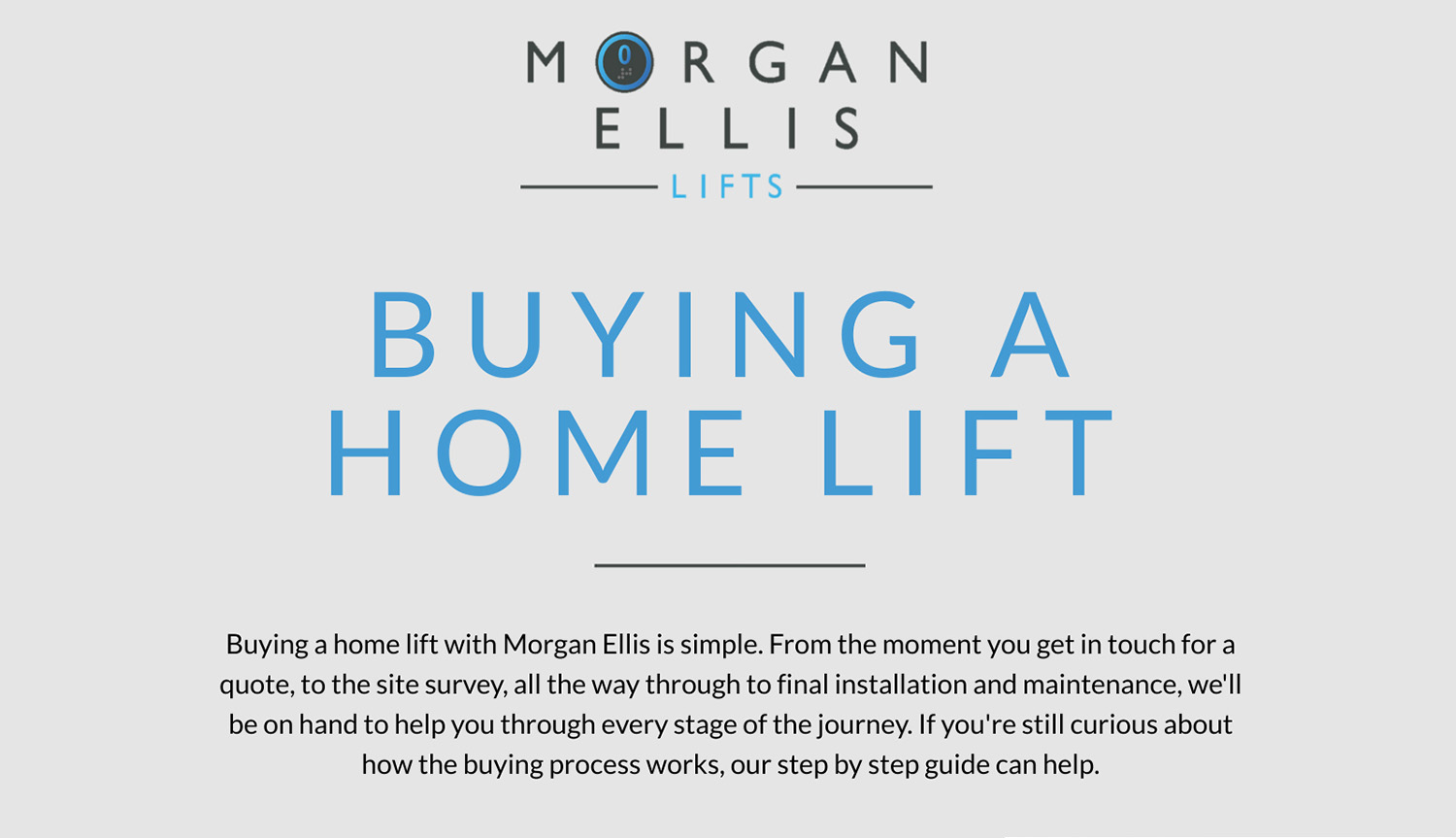 Buying a home lift with Morgan Ellis is a simple, stress-free process designed to get you from enquiry to installation without a hitch. From the moment you get in touch with us to express interest, to the moment your lift is up and running and beyond, our team will be on hand to help and guide you through every stage of the lift buying journey. To help give you a better idea of just how it all works, we've put together a handy step-by-step guide for you to follow, below.
Step 1 - Get In Touch
To begin the process of buying a home lift, all you need to do is give us a call or send us an email. Whether you have a clear idea of exactly what you want for your property or building project, or you need a helping hand deciding the best lift to suit your needs, simply share your vision with us and we'll use our expertise and experience to help. We can advise you on the best size, model and features to suit your requirements, whether you call, email or send us an enquiry. We can organise a physical site visit, or a virtual video survey to help give us and you a better understanding of which of our home lifts will suit you best.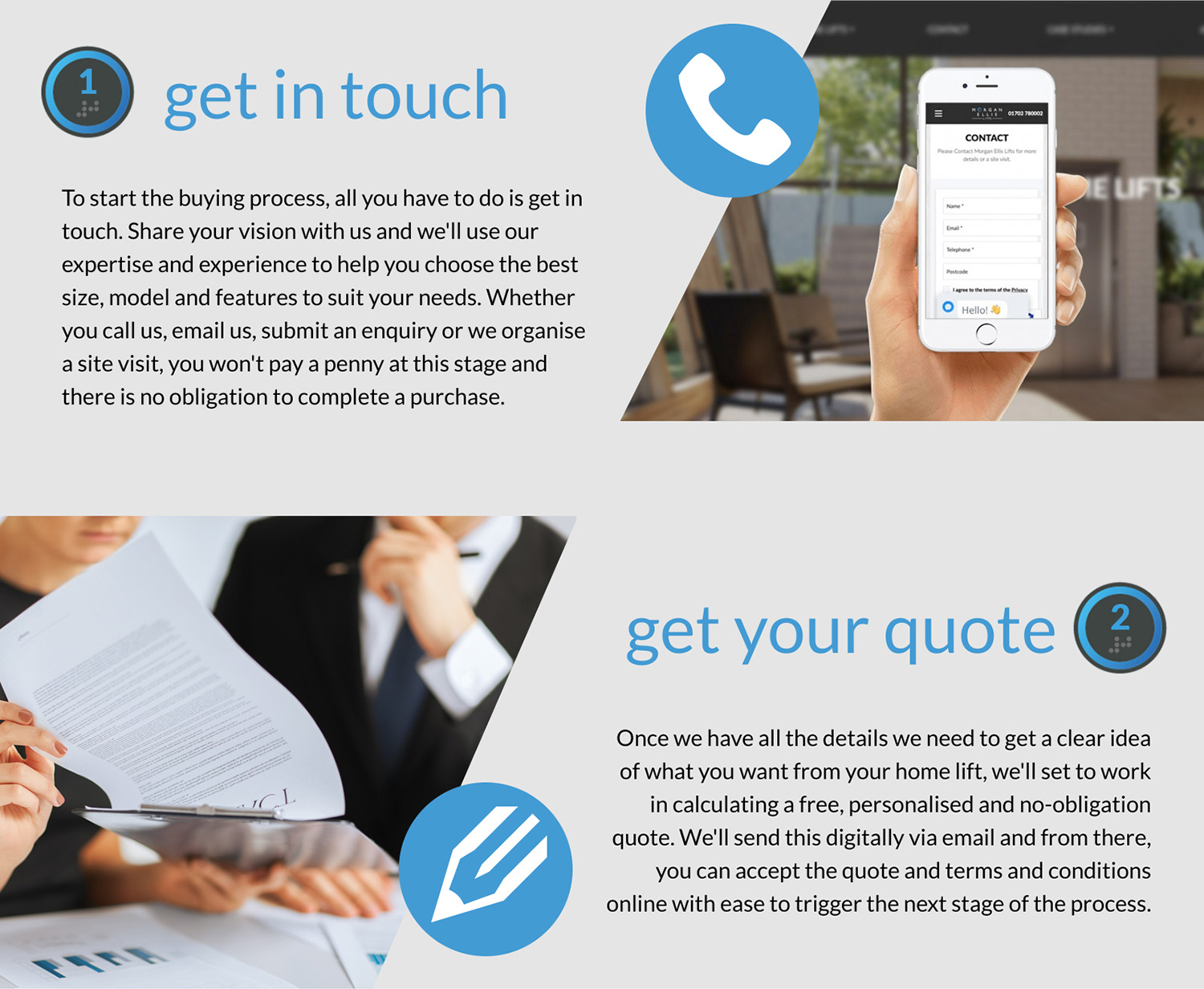 Step 2 - Get Your Quote
Once we have a clearer understanding of just what you want from your home lift and which models, sizes, features and designs you're interested in, we can get to work in putting together a free, no-obligation quote. Each quote provided during the lift buying process is fully personalised to you and your home lift of choice. We will send this digitally to you via email and from there, the process of accepting the quote and the relevant terms and conditions is easy, and will be listed out in the email to you. Acceptance of the quote will trigger the next stage of the process, but changes to the lift and features can still be made at this stage for a more accurate quote.
Step 3 - Pay The Deposit
Once you've accepted the quote, we will provide you with an invoice for the deposit. We require a 50% deposit of the overall cost of the lift in order to trigger the next stages of buying and installing a home lift. Once we've received the payment, we can get to work on putting together initial, but detailed plans and drawings of your lift.
We now offer finance! Find out more by getting in touch.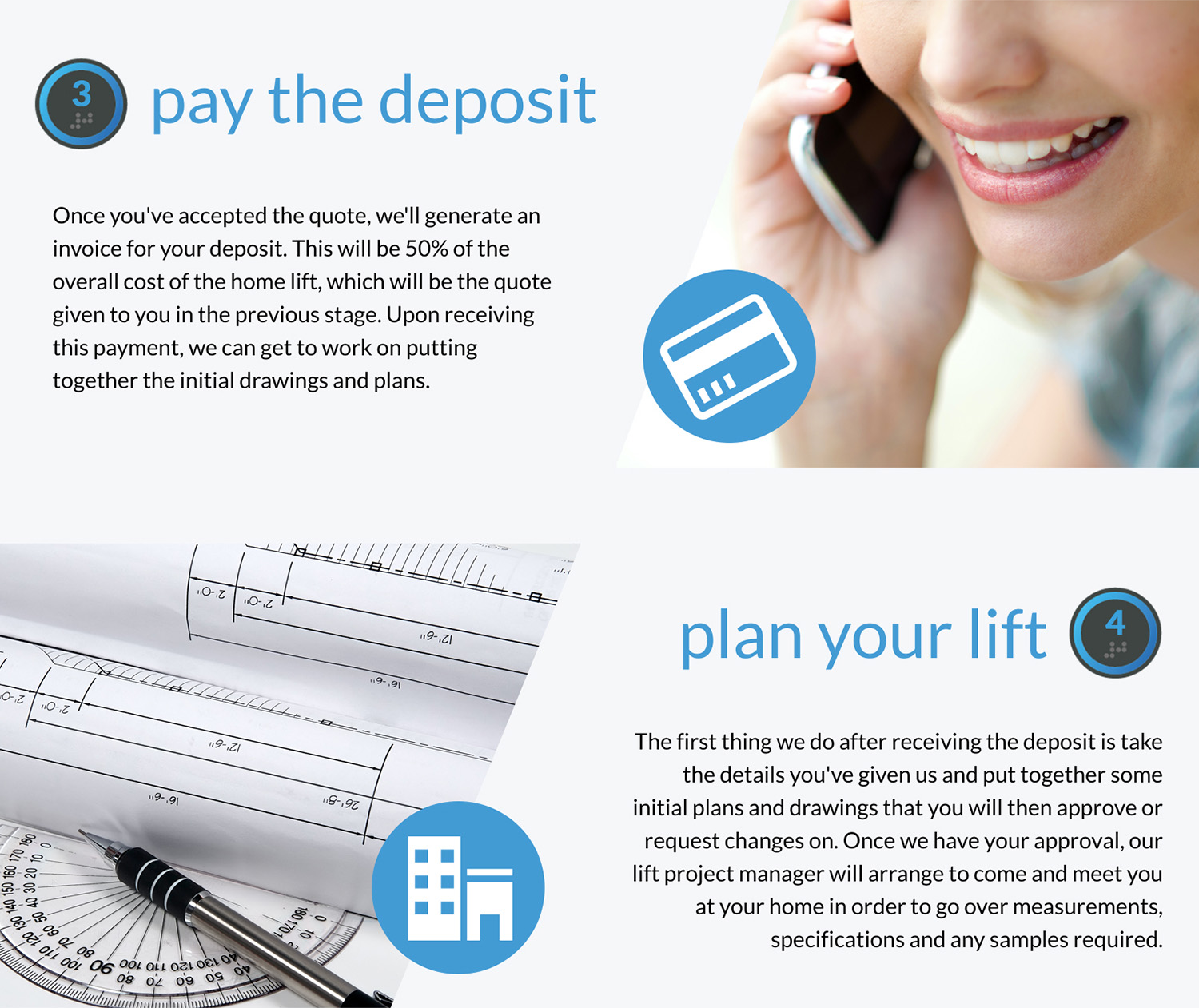 Step 4 - Plan Your Lift
The next step is to get started with the initial plans for your home elevator. We will take all of the details that you have given us and that have been discussed and put together some preliminary drawings and plans that take all of this into account. We will send any drawings to you digitally, which you can then approve or request changes on depending on how satisfied you are with the result. Once we have the approval, your dedicated lift project manager will visit you at the property in order to go over any final measurements and finer details, including giving you a run down of any specifications or works required prior to the lift being installed.
Step 5 - Finalise The Details
Once the final measurements have been taken and any changes have been made to the plans, you'll have the opportunity to approve the final designs. This is the part of the lift buying process that really gets installation underway. We will take the approved designs to production for your lift to be manufactured, and this is also the point in which you can get the work done in the property needed for your lift. This could include putting a hole in the floor or ceiling, adapting the home for pit or headroom or any other building work necessary. This can be done by our builders or by your own contractors.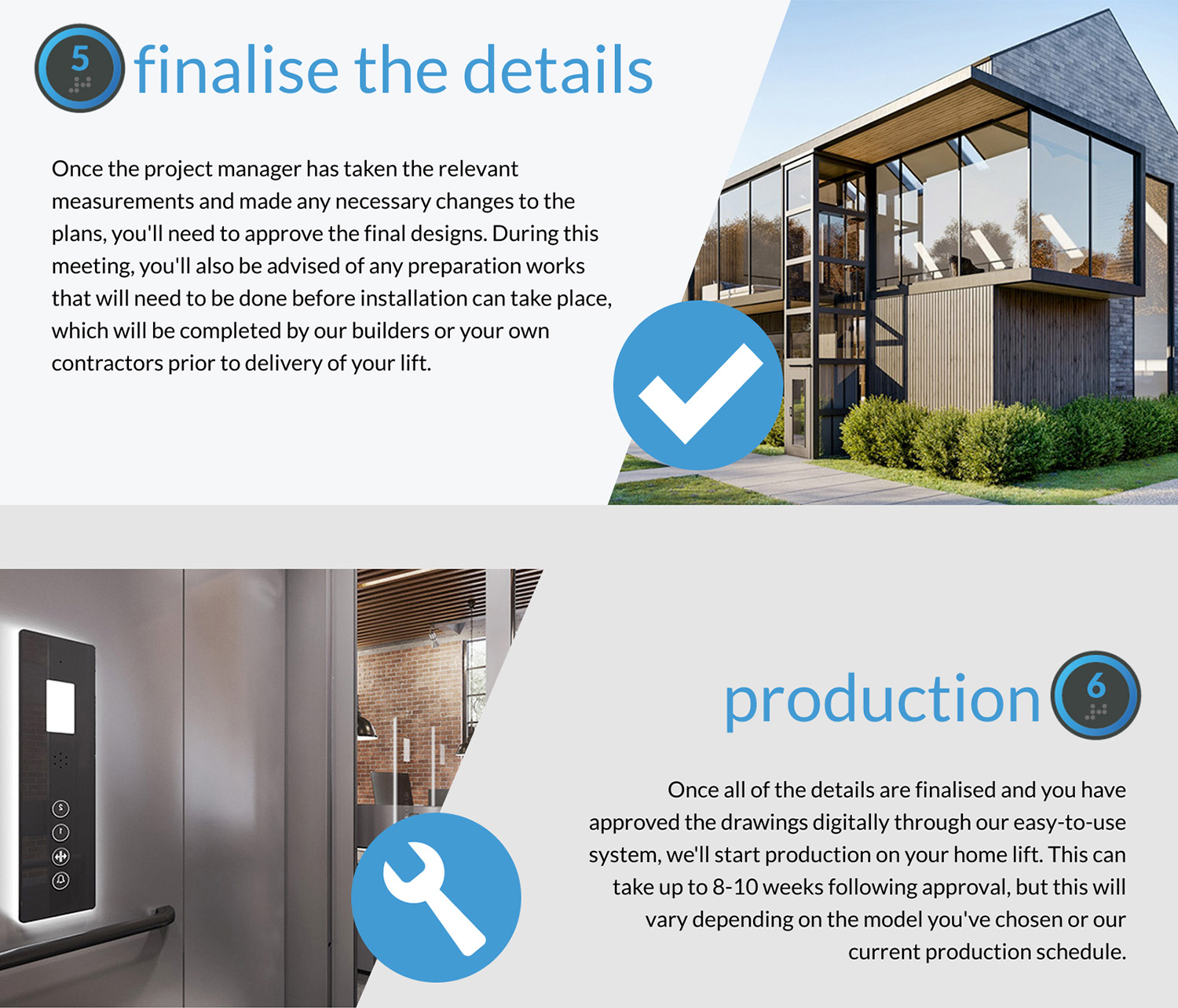 Step 6 - Production
This part is up to us, but you can keep up to date with the progress throughout the time. Once all of the plans and work to be done is finalised, your lift will be sent into production. Depending on the lift that you have chosen and the features or changes required, this can take anything between 8-10 weeks, though some may be more or less depending on demand and requirements.
Step 7 - Plan Installation
When your lift has been produced or is nearly at the end of the production process, we will contact you to determine the best date for installation in your home. This can easily be organised around your schedule, however 2-4 weeks prior to the chosen date, your project manager will need to pay you another visit. This will be to determine whether all requested works have taken place and that everything is set and ready for the installation of your new lift.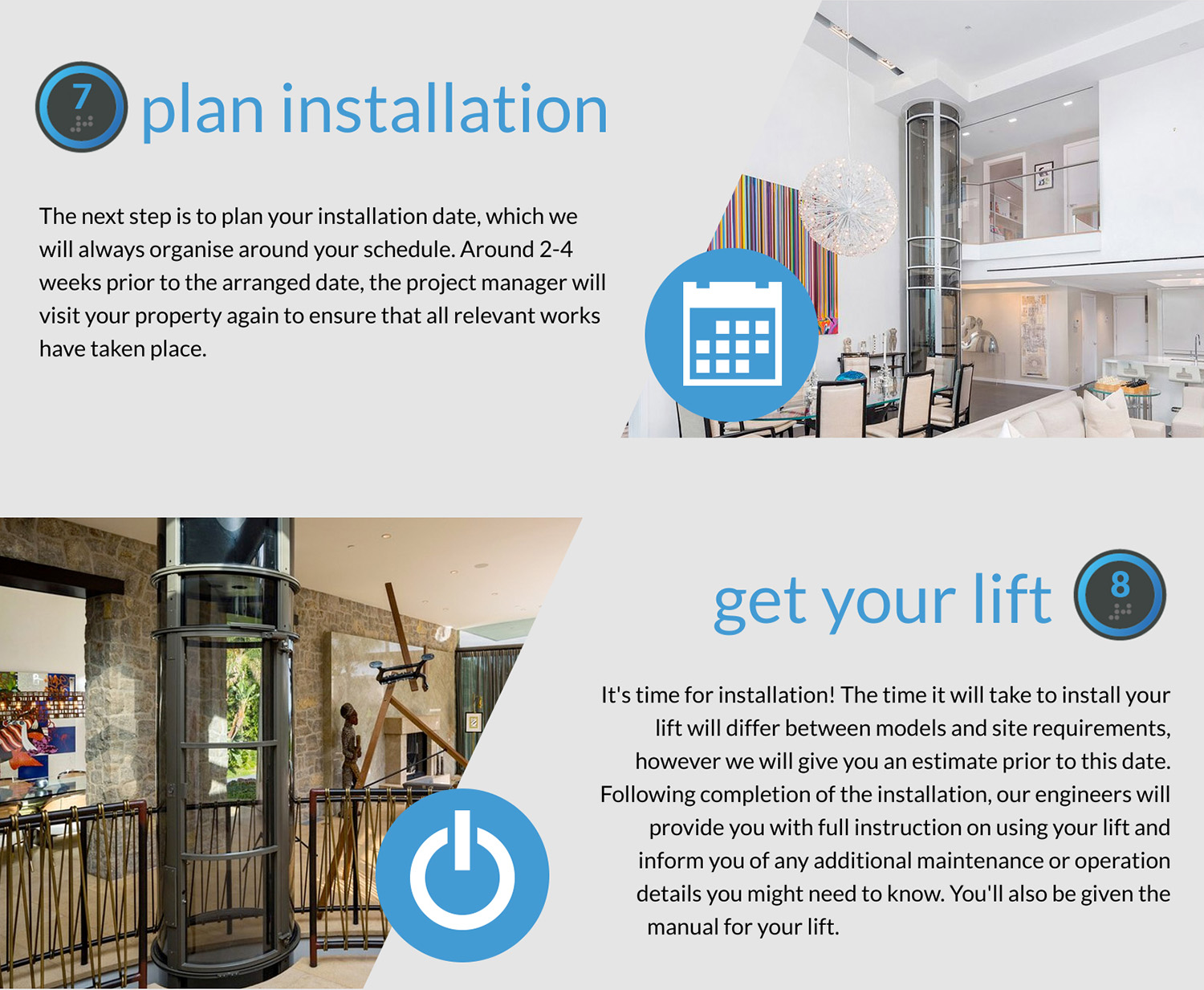 Step 8 - Get Your Lift!
The time has finally come for installation! Our team will bring the lift to your home and conduct all necessary works to install the lift into your home, though the time this will take will ultimately vary depending on the product in question. This will be discussed with you prior to the installation date to ensure that it can fit around your schedule. Following the completion of the installation, our engineers will provide full instructions on how the lift works, how to operate it and any health and safety that you need to know. You'll be given the manual for your lift, as well as any details about maintenance in the coming months and years.
And that's it! The process of buying a home lift is simple with our team, who will guide you and help you through each and every step. For more information or to get started with your home lift installation, get in touch with a member of our team, today.