A visit to our showroom is the best way to experience the quality, expertise and style on offer here at Morgan Ellis. Featuring our incredible PVE Pneumatic lift, our showroom is now open at the Sky House Design Centre for you to chat to our team and experience our home lift first hand, for an insight into its innovative vacuum elevator technology. Our friendly team will be on hand to offer in-depth, expert advice about not only the PVE elevator, but all of our home lifts, so you can order yours with extra peace of mind.
Our New Showroom
Situated in Amersham's Sky House Design Centre, our brand new showroom is now available for visits. You can see and experience the stunning PVE vacuum lift and find out more about how it works and how it can fit into your home directly from our team. Currently, visiting the Sky House Design Centre requires a booked appointment and walk-ins aren't accepted, however, we are happy to discuss times with you and work to suit your schedule as best we can. Get in touch with our team to find out more about booking your visit to our showroom.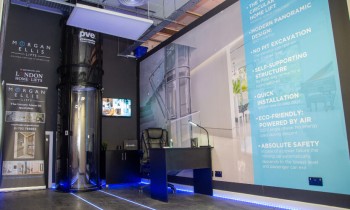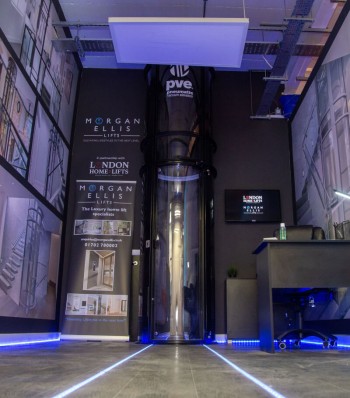 See The PVE Vacuum Lift
Only experiencing the unbeatable PVE vacuum lift on display at our brand new showroom will give you a true insight into just how amazing this elevator really is. Renowned for its innovative design and complete with leading air-powered technology, 360-degree panoramic views and seamless ride quality, this is a lift that will make your visit worth it. The PVE vacuum lift allows you to glide between floors in your home with a modern look and plenty of customisation options to ensure it complements your existing decor, all while offering a stylish new focus point and accessibility solution in your home.
Come and see the PVE Pneumatic Elevator for yourself at our brand new showroom at Sky House Design Centre, Amersham.
How To Find Us
Situated in Amersham's Sky House Design Centre, conveniently located near to London and the M4 and M25, our new showroom is easily accessible by car or is just a short bus ride (1 bus) or walk away from Amersham train station.
Why Choose Us
Site Preparations
Whole project management, including any building work requirements. We have a team of trusted building contractors who work to our expected high standards.
Completely Bespoke
From size and style to completely bespoke finishes and colours, you can customise our range of Morgan Ellis Home Elevators however you like.
Professional Advice
We are always happy to offer help and advice on choosing the most suitable home elevator for your project or home just get in touch with the experts here.
Technical Support
Morgan Ellis provide optional aftercare agreements; technical support, servicing and maintenance keeping your home lift well maintained well into the future.
Approved Supplier
Morgan Ellis are approved suppliers of many of the biggest home lift brands on the market, which gives you peace of mind when it comes to choosing us.
Aftersales
We at Morgan Ellis offer service plans to take the worry away once your lift comes out of warranty, we can tailor a plan to suit your needs.